Adventure Trips in Maharashtra
You can take adventure trips in Maharashtra to enjoy camping, wildlife safaris, sailing, hot air ballooning, paragliding and white water rafting. If you're looking to tour Asia a little after Maharashtra, have a look into other
Asia travel
locations. Adventure Activities Available in Maharashtra
1. Camping in Maharashtra
The two best places to camp in the state are Kambre and by the Koyna Dam.
• Kambre:
Kambre is a small village located in the district of Pune at a distance of approximately 55 km from the main city. The climate here is an amalgamation of tropical savannah and hot arid types. April gets quite warm with temperatures of 40 degree Celsius, while winters are cool with temperatures between 15 and 30 degrees. Certain campsites in the village arrange for zip-lining, rock climbing, bouldering, rappelling, river crossing and valley crossing.
• Koyna: The dam is built over the Koyna River in the south-western part of the state. Camps are set amidst mango and jamun trees, and the entire area is surrounded by thickly forested Western Ghats. A number of activities are hosted in the dam reservoir, such as swimming and kayaking. You may take excursions through Koyna Wildlife Sanctuary, and hike to the Vasota Fort. Know more about other popular options for Camping in Maharashtra. 2. Wildlife Safaris in Maharashtra Adventure trips in Maharashtra, inclusive of wildlife safaris, can be taken to Tadoba Andhari Tiger Reserve and Satpura National Park. • Tadoba Andhari Tiger Reserve: The location of Tadoba Andhari Tiger Reserve is in the Chandrapur district in East Maharashtra. Its topography is somewhat rugged as it is spread across the Kolsa, Chimur and Moharali Hills. Crocodile bark, haldu, tendu, bamboo and crape-myrtle dominate the dry broadleaved jungles here. On a wildlife safari through the reserve, keep looking for tigers, hyenas, dholes, nilgais, sloth bears, marsh crocodiles, eagles and gaurs. • Satpura National Park: This territory covers the district of Hoshangabadd, and lies partly in Madhya Pradesh and partly in Maharashtra. The hills of the Satpura Range that cover the land here have altitudes between 951 feet and 4500 feet. Mahua, sal, tendu, stone apples and teak are few among the over 1300 species of plants in the region. Chausinghas, wolves, Indian bison, owls, wild boars, woodpeckers, dholes, tigers and langurs are the prominent species here. Know more about other popular options for Maharashtra Wildlife Safari Tours. 3. Sailing in Maharashtra You can practise sailing as part of your adventure trips in Maharashtra off the coast of Mumbai, the state capital. The cruise will be on-board a 25 feet long yacht, brought all the way from France. Whether you are a novice sailor or experienced in the art of boat racing, the vessel is perfect for you. The ride will be roughly 2 hours long, and will be organised in the afternoon. You will be briefed by trained instructors, and once you get on-board, you will get to steer the vessel. 4. Hot Air Ballooning in Maharashtra The hill town of Lonavala in the western part of the state is the most famous site for hot air ballooning in India. Adventure trips in Maharashtra on hot air balloons will take you to heights of around 1200 feet above the ground. The experience, inclusive of inflating the balloon, taking off, cruising and landing will take around three hours. To enjoy the flight, make sure you are at least 5 years old, are 5 feet in height, 100 percent fit, and not pregnant. Know more about other popular options for Hot Air Ballooning in Maharashtra.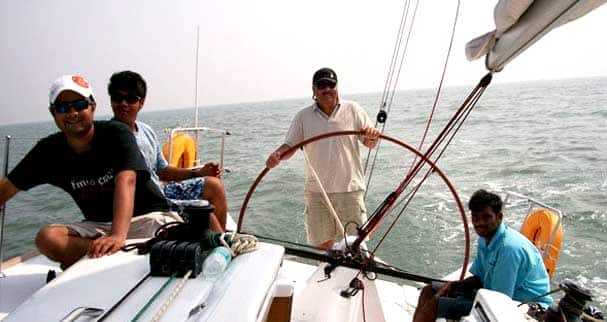 5. Paragliding in Maharashtra
Located in the Western Ghats in Pune district, Kamshet is the paragliding capital of India. The hills are moderately high, and make easily-accessible launching sites. There are a lot of flat and open spaces in the area where you may easily land. Before you sprout wings and fly, you will be given a proper theoretical briefing by experts. To further boost your skills, you may take a three-day paragliding course, wherein you will learn all necessary flying and safety techniques. The flight will be tandem style, meaning that the gliders will be twin-seated, and you will fly with a trained pilot.
Know more about other popular options for Paragliding in Maharashtra.
6. White Water Rafting in Maharashtra
For the ultimate adventure trips in Maharashtra, you will have to travel to the village of Kolad. Located on the banks of the Kundalika River, Kolad is the place to pick for an amazing white water rafting experience. There is a dam across the river, which releases water, and increases the volume, strength and velocity of the river current. Rapids along the course of the river are classified as Grade II, III and IV, which means that the sport will be quite challenging. If going to India is on your bucket list, but you can't afford it just yet, using these white water coupons at popular river trips in the states could be just as fun!
Before it starts, instructors will brief you about rafting, equipment and what all you will need to do for safety.
Know more about other popular options for River Rafting in Maharashtra.