Adventure Tours in Karnataka
Adventure tours in Karnataka can be taken to enjoy a host of thrilling activities, such as adventure sports, wildlife safaris, camping and scuba diving.
1. Wildlife Safaris
Wildlife safaris can be taken through Bannerghatta, Nagarahole and Bandipur national parks, and Anshi-Dandeli Tiger Reserve.
• Bannerghatta National Park: The vegetation here is categorised as belonging to tropical dry deciduous forests, tropical moist mixed forests and dry deciduous scrub forests. Animals of the protected territory include gaurs, elephants, deer, tigers, leopards, hyenas, parrots, tortoises, crocodiles and pythons.
• Nagarahole National Park: This protected area is in the Kodagu district in Karnataka, and lies in the Western Ghats. Resultantly, most of the land here is hilly, with altitudes between 2250 feet and 3160 feet. The moist deciduous forests here contain trees like rosewood, teak, silver oak, sandalwood, axlewood and ficus. Elephants, leopards, tigers, squirrels, deer, striped hyenas, wild dogs, vultures, eagles, pangolins, hornbills, parrots, crocodiles, kraits, vipers, lizards, vine snakes and pythons are found here in plenty.
• Bandipur National Park: Bandipur is another protected area located in southern Karnataka, and within the Western Ghats. The territory has a mix of dry deciduous and moist deciduous forests, and scrubs. Sandalwood, teak, rosewood, laurel, crape myrtle, gooseberries and axlewood are some trees of the region. The largest animals here are elephants, gaurs, tigers, leopards and sloth bears while other creatures include cobras, deer, pythons, langurs, dholes and scavenging birds.
• Anshi-Dandeli Tiger Reserve: Like most protected areas in the state, it too lies in the Western Ghats, and has altitudes between 90 feet and 3040 feet. The moist deciduous and montane rainforests of the region have trees like tamarind, blackboard tree, cinnamon, silver oak and bamboo. Elephants, black panthers, boars, sloth bears, langurs, deer, pythons, rat snakes, lizards, vipers, cobras, kites and storks are easily seen here.
Know more about Karnataka Wildlife Safari Tour.
2. Trekking in Karnataka
Karnataka is home to lush Sahyadri Range of the Western Ghats making it a great destination for short treks. The best part is that some if these treks are even operated in the night. Here is a list of a few of these treks that you can be a part of:
• Kudremukh Trek: This 2 night trek takes you to a maximum altitude of 6207 feet and also offers camping and rope activity.
• Kuntibetta Night Trek: Located in the town of Pandavpura, this night trek offers some challenging sections for the thrill seekers.
• Ramanagara Day Trek: This is a perfect one day trek for all adventure lovers as other than trekking it also offers Rappelling, Kayaking and Water Board activities.
• Narayangiri Night Trek: With the maximum altitude of 3800 feet, this night trek makes for a perfect weekend getaway. It includes simple hiking and some tough climbing too.
• Savandurga Day Trek: This trek takes you to a height of approximately 4022 feet, to the top of a cliff which is among the largest monoliths in the world.
Know more about other popular options for Trekking in Karnataka.
3. Camping in Karnataka
To camp during adventure tours in Karnataka, you can seek accommodation in a number of properties, maintained by the state-owned Jungle Lodges venture.
K Gudi Wilderness Camp
• Location: The property is located amidst the BR Hills, which are part of the Western Ghats as well as of the Eastern Ghats, in Chamarajanagar.
• Accommodation: Accommodation is provided in three Log Cabins, eight independent cottages and the Maharaja Hunting Lodge.
• Activities: Wildlife-related documentaries can be watched in the on-site audio-visual room while bonfires can be enjoyed during winter evenings. The establishment organises wildlife safaris, nature walks and bird-watching tours through the surrounding hills.
Bheemeshwari Nature and Adventure Camp
• Location: This establishment is located in the Mandya district on the banks of the Kaveri River among lushly forested hills.
• Accommodation: One bamboo hut, two luxury cottages, eight log cabins and six tented cottages are the various lodging options here.
• Activities: You can stroll in the campus, lie on hammocks, or enjoy yourself on the tumbling net, trek through the hills and jungles, or make the most of the fact that the campsite is on a riverbank. You may travel on the Kaveri River on coracles, sail on kayaks, or indulge in jaw-dropping rafting. Other activities to enjoy here are mountain biking, zip lining and rope walking. Fishing for mahseer in the river is the most sought-after engagement at K Gudi Wilderness Camp.
Kabini River Lodge
• Location: The lodge is located just outside Nagarahole National Park, by the reservoir of the dam, built across the Kabini River.
• Accommodation: You can either stay in the main building of the lodge, which has 14 rooms with large beds and other amenities, or choose from six individual cottages.
• Recreation: You may enjoy alcoholic drinks at the proper bar, contained in the main lodge building. Naturalistic films are screened here, and you can also get an Ayurvedic massage at the site. The lodge arranges for wildlife safaris in the region on Jeeps.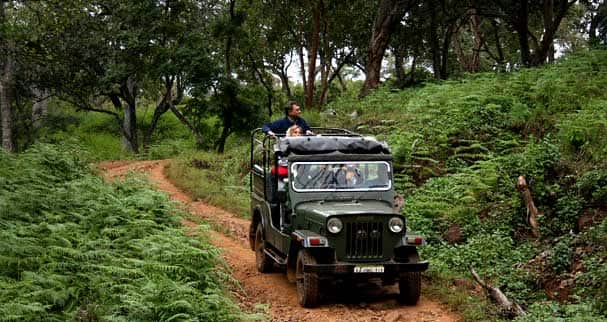 Kali Wilderness Camp
• Location: Kali Wilderness Camp is located on the banks of the Kali River inside Anshi-Dandeli Tiger Reserve.
• Accommodation: The bungalow of the campsite has 10 large rooms, and the property also provides accommodation in 12 Swiss tents.
• Activities: You can avail a Jeep safari in the area with the establishment, or go for water sports like coracle rides, canoeing and kayaking on the river. The lounge bar of the lodge has a television set and a range of liquors for you to enjoy.
Bandipur Safari Lodge
• Location: As the name suggests, this lodge is just outside Bandipur National Park.
• Accommodation: You have the option of staying in 10 Special Cottages or 10 Standard Cottages. All cottages have twin beds, large windows, chairs, balconies and attached bathrooms.
• Activities: You may ask the lodge management to make arrangements for wildlife safaris, bird watching tours and nature walks through the national park.
Know more about other popular options for Camping in Karnataka.
4. Scuba Diving
Scuba diving is organised near Netrani Island, which lies off the coast of Karnataka, and is near the seaside town of Murudeshwar. You will first be trained in the sport at the diving institute, and your course will be inclusive of a briefing and a swimming pool practical session.